Family requests
hmsdasher.co.uk is a site which I hope will evolve in time. This page is intended for anyone who wants to post a message regarding the ship, those lost, the survivors or any other relevant request. To give you an idea of how this page may develop please visit www.hmsroyaloak.co.uk/requests.htm to see how this has evolved.
Please e mail peter@hmsdasher.co.uk and I will post your message to this page in the hope that other visitors may help with information.

PLEASE NOTE If there is no e mail after the message, please e mail me and I will forward it on to them.
Dasher Memorial Weekend 2022
The Royal British Legion faithfully runs this event every year. This year the arrangements are as follows:
Saturday 26th March
9:15 am – Gather at Ardrossan Ferry terminal ticket office 
9:45 am – Ardrossan/Brodick ferry sails and stops en route over the site of the HMS Dasher wreck for short commemoration service and wreath laying. 
At Brodick disembark for short quayside service at Dasher memorial plaque outside the terminal building. 
12 noon - return ferry to Ardrossan
12:30 pm – Make way to Ardrossan cemetery for graveside service paying respects to the 13 souls from the HMS Dasher crew interred there.
Sunday 27th March 
11:00 am – British Legion members will march off with band and Colour party to Dasher Memorial Gardens. The salute to be taken by the RNR Officer of the day from HMS Dalriada 
11:30 am - Remembrance service and laying of wreaths and crosses 
12:15 pm – Dispersal of parade. 
For further details contact the RBLS Saltcoats Ardrossan & Stevenston Branch at sasbranchsecyrbls@gmail.com
George Walter Shuttleworth
It was lovely to hear on the news last night that so much is being done to find the truth . 
My mum was first married to George Walter Shuttleworth. 
Air Mechanic 1st class .
It would be lovely to hear any information about him . Where he was buried or if he ever was . 
I have enclosed a photo 
Hope someone somewhere remembers him . Or any information where we can find out . 
Many thanks 
Kath Grimes 
12/11/21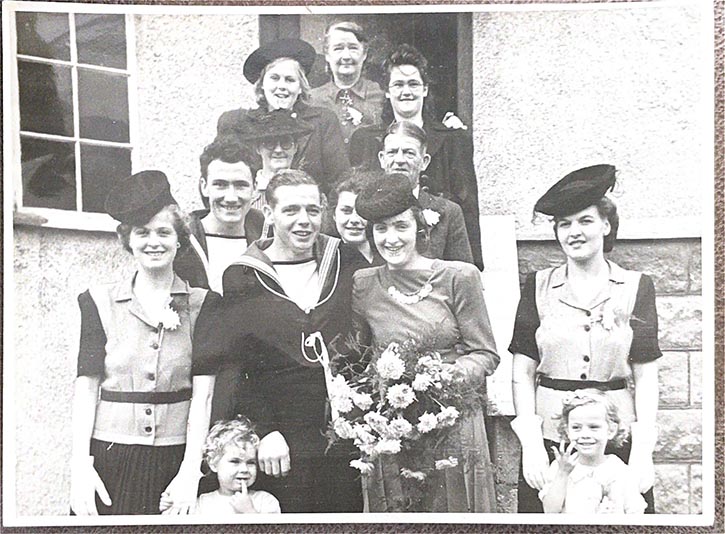 Joseph McCann
I just watched a news story tonight on the main BBC news about the sinking of the Dasher. Although it's been the subject of some previous articles on the BBC site, that was a number of years ago and so it's not something I thought I would see again in 2021.
Joe was one of  our mum's older brothers, and as I recall had previously served on HMS Ark Royal when it was sunk earlier in the war with the loss of only one life. 
Where Dasher sank was just down the Clyde from the family hometown of Clydebank, where they lived next door to John Brown shipyard (where the three Queens and many other great ships were built).His name is on the war memorial at the Town Hall. which itself is next to the location of the old shipyard site and only a couple of side streets along from where their family home was. Our mum and others of the family family had stood in the close (the common entrance) of their tenement building during the Clydebank Blitz in 1941. It and they survived unscated along with the shipyard and Town Hall. 1941 as the bombers missed the yards for the most part.
The family had cousins in Port Glasgow further down river who heard the explosion of the Dasher.. Our mum read the original book and had always wanted to know more having been told the story of the overfueling many years before.
I had looked at your website before and read other articles including the one with the sonar picture. Seeing the news story tonight made me look again and so I thought I'd drop you this message for putting on the site. Hopefully the story being aired once more may finally lead to release of any last information still held.
Regards
Raymond Barlow
12/11/21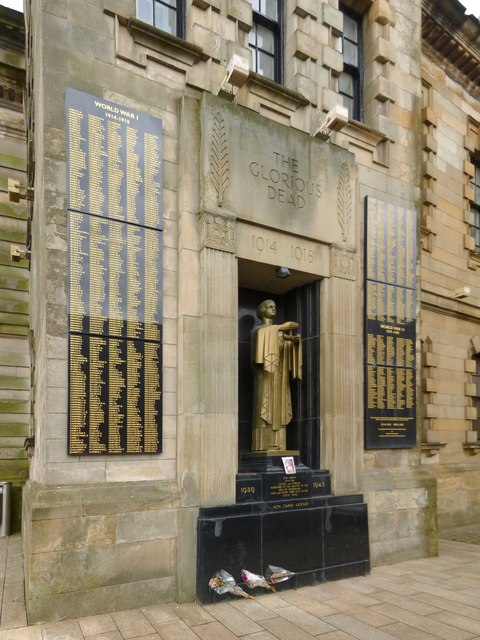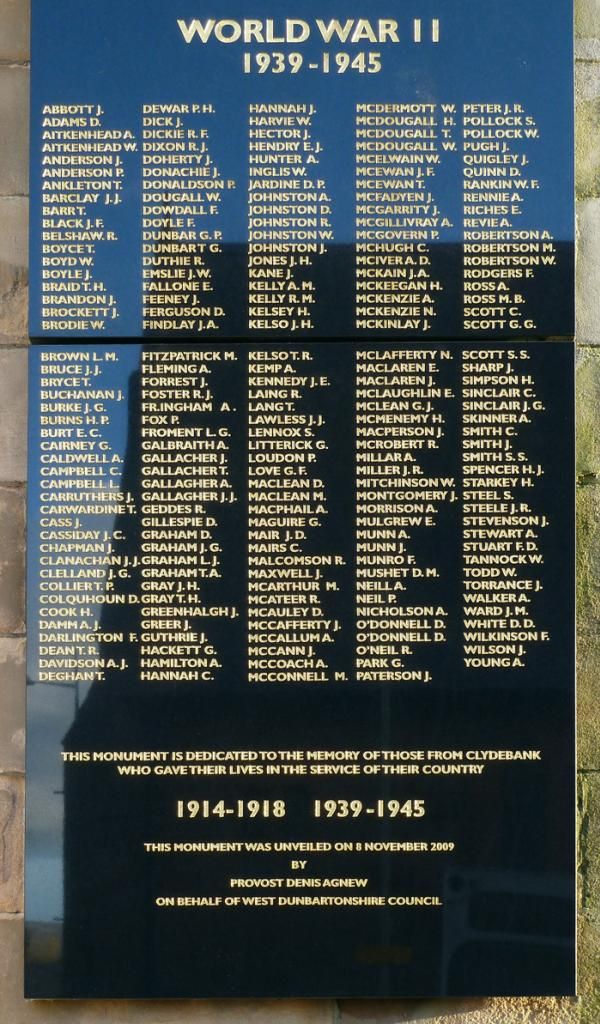 ---
Petty Officer Albert John Young
My grandfather was Petty Officer Albert John Young a navigator born March 1899 in Newport Wales and was a one of the crew on HMS Dasher.
He was aged 44 when he died so he had a long service in the Navy up till the tragedy on Dasher.
My grandmother and his four daughters never knew the real story of the tragedy until the book was published and it was a bit of a shock to them, they were told he died at sea and that was all.
Regards,
Trish Padbury
---
Donald Parkinson
My Uncle served as an air mechanic aboard the HMS Dasher. He was 19 years old and his name was Donald Parkinson
Would really appreciate any photographs or information
Thank you
Vivian Alderson ( niece of Donald Parkinson )
---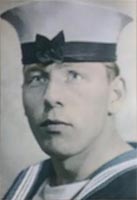 Cecil Augustus Young (JX316666)
My name is Cecil Young, and my uncle Cecil Augustus Young (JX316666) was an able seaman on the HMS Dasher Aircraft Carrier. He was one of the many who were lost at sea during the tragedy on March 27, 1943. Cecil was born on June 24,1922 in St. John's, Newfoundland, the son of James and Rose Young. Attached is a picture of Cecil in uniform. In dedication to all who lost their lives on that tragic day, I ask that you place this message and picture to the HMS Dasher website.
Thank you
Cecil Young
Click on image for a larger version in a new window
---
Cyril Gordon Taylor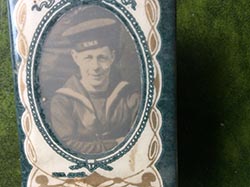 My name is Gregory Taylor, and I am hoping you will be able to add this attached photo to your website, dedicated to the seamen who were killed on HMS Dasher on 27th March 1943. This is a picture of Cyril Gordon Taylor, who was my grandfather's younger brother. His picture is on a metal matches box, that I have. He was one of those killed on board the ship, aged just 19. Cyril was born in Northfleet, Kent on 4th January 1924, the son of Alfred Taylor (1882-1951) and Ruth Taylor (formerly Sands)(1890-1964).
Thank you
Greg Taylor
Snodland, Kent
Click on image for a larger version in a new window
---
William Tosh
Hello From America,
My wife and I recently visited Scotland again, among the many things we did was locate the family tombstone in Dundee's Western Cemetery. One of the names listed was that of William Tosh with his date of death stated as 27 March 27 1943.
Being a historian who earned his Master's degree from the University of Aberdeen in the late 1970s, I was intrigued by his death date coming in the heart of World War II. Upon returning home, online research soon revealed that had served as an Assistant Steward, perishing on HMS Dasher and that he is not actually buried in Dundee as his body was either never recovered or perhaps placed in the rumored mass grave that I read about in The Secrets of HMS Dasher by John and Noreen Steele. He was a member of the Naval Auxiliary Personnel from the Merchant Navy rather than a member of the Royal Navy.
Copies of pages from a family Bible state that he was born on 27 October 1906; he apparently never married as his name doesn't appear on the marriage page from that same Bible. Digging back into surviving letters from the 1930s sent from our Dundee relatives to family here in the US occasionally mention him but our collection is devoid of any such correspondence for the war years.
Unfortunately, my time living in Scotland took place just a few years after the death of his step-mother so I never directly connected with Scottish kinfolk. I vaguely remember my late father, who served in the US Navy, stating that we had a Scottish relative who perished in WWII but he didn't know any of the details. William would have been his first cousin, once removed.
Would it be possible for you to post my inquiry on your HMS Dasher website so that any survivors who might have served with Assistant Steward William Tosh might read this request for any memories of him that they might like to share? It is deeply regretted that we don't even have a photograph of him.
Your help is greatly appreciated. Thank you and thank you for your excellent website.
John Mackintosh
---
Harry G. Mollett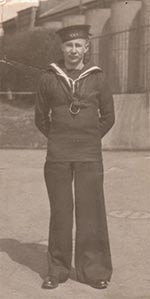 My name is keith and am the cousin of harry g. mollett crew member of hms dasher,
ive been researching the dasher for a while now and wondering if you was interested in a small piece of harrys history,
I know that he was killed in this tragedy and he has one surviving sister out of three siblings, I know that his mother never did come to terms with his death neither did hes sisters, hes surviving sister is very secretive about harry and still wont talk about the event so I can only imagine the trauma of his death on her.
I believe he's named as henry j, mollett, but harry is or was some sort of nickname, but the middle initial was wrong, he was harry g, mollett o/s jx353724 2 mess fx hms dasher.thats whats on a couple of letters that ive got that was sent to my dad,his uncle,
one of them sent exactly a month to the day before the disaster, he was 19 years old at the time,
the photo that ive posted hopefully was taken at chatham docks, near to where I live.also his name is inscribed on the memorial at the lines in chatham.
im sure harry would be happy to be remembered on your website,
keith ward
Click on image for a larger version in a new window
---
Frank Owen Turner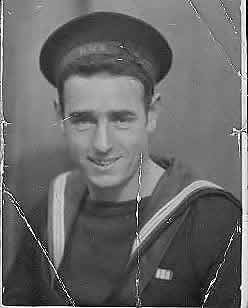 Hello Peter,

My name is Gary Hindley and i have been looking into my family history for the last twelve months. I have discovered that Frank Owen Turner was my great uncle and that he died on Hms Dasher in 1943.

Frank was a leading seaman on the Dasher and was 24yrs old when he died along with the many other souls on that day. Mary Turner, my Grandmother and Franks sister, married Frederick Leonard Stickland in 1942. Frederick also served in the royal navy during the war. The family story goes that Frederick and Frank 'Tucker' Turner were good buddies and that Frederick, my grand father, was unable to save his brother in law when the ship went down. I realise that there is a list of names of the casualties of the Dasher disaster but i was wondering if there was a list of the men who survived also, as i cannot find any reference of my grand father (Frederick) having served on the Dasher.
Is there a crew list of men who served on the Dasher before the disaster?. Any light you could shed on Frederick or Frank would be greatly appreciated. Also if there are any readers out there who have memories or information on Frank 'Tucker' Turner or Frederick Leonard 'Dick' Stickland i would be very grateful if you could get in touch.
I have enclosed a photograph of my Grand father Frederick 'Dick' Stickland.
Gary Hindley
---
Ord. Telegraphist Edward Cane
Hi Peter,

Just found your site when I was looking for the Dasher's service history. My father was a Dasher survivor - his story is in John Steele's book The Tragedy of HMS Dasher.
If you are still collecting info about the Dasher I have two human interest ones for you -

My grandmother received a telegram from the War Office telling her that my dad had been lost at sea 2 days after he got home on 7 days "sinking" leave. - apparently she invited the neighbours to check Dad was still alive before using it as a spill to light her fire. There was another person on the ship with a similar name AB James Kane who lost his life - Dad's name Ord. Telegraphist Edward Cane !

When I was about 7 or 8 (1958 ish) Dad received a parcel posted from Scotland. Inside was an old box brownie camera in it's canvas case and a letter. - The letter was from a dog walker on the Isle of Aran who had found the camera inside it's case washed up on the beach after a huge storm. Inside the case in the indelible ink my farther always used was Dad's name and address - and his shore leave pass for 27 March 1943. The letter asked if the occupant of the house knew whether the owners family still lived in the area and apologised if returning a dead son's camera caused grief. I guess they were shocked to receive a thank you card from the camera owner. After Dad had cleaned it up he was surprised to find it still worked and I used that box brownie camera for a while until I was given a "modern" box brownie for Christmas that year. I have no idea what happened to the original one but Dad was not sentimental about objects - only about the pictures they took!

Dad had been ordered not to tell anyone about the sinking of the ship and until John Steele started researching for his book and contacted him he never did.

Tricia Cane
---
Ardrossan photos
Hi Peter,
I used to live in Ardrossan and and took pictures then and on a subsequent holiday of Dasher graves and memorial which you might find of interest to link to.
http://www.candoo.com/ulsternorrie/dasher.html
Regards
Norrie Millen
Jack Varcoe
I have just read all of the stories on the site. I am in awe and so pleased only because when I last saw my Aunt in Cornwall I asked all kinds of questions ,as I am doing family history.
She said she could remember nothing ,however through time she got upset and said she had a terrible time dealing with being a widow and new baby,but mostly because she was told nothing ,I think she said someone in uniform came to the door with a telegram saying her husband JACK VARCOE would not be returning.I am sure she was in a doctors surgery once and overheard a conversation about this.
Not knowing anything was happening as now of course. I tried for so long to get the book, as she thought they had one out (in later yrs. )but did not know what it was called,in asking her daughter she told me. I am going to tell her daughters about this site and I THANK EVERYONE involved in it. How wonderfull even this late for the poor families still here to get some sort of news.

My Aunt is now called Vera Winchester I believe recently gone into care so I would love to think she is still able to comprehend some of the news. My aunt married another naval wonderfull man who took care of the lighthouse in Cornwall.I am going to call the family tommorow, and next yr. visit them in Cornwall as we live in Canada.They can also inform the son, 1st. born.

Regards and Thank you again
Hazel Lawrence.
Fred Plank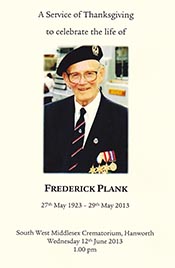 Dear Peter
My wife and I attended the funeral of Fred Plank this afternoon. Fred was Chief Laboratory Technician at St Peter's Hospital, Chertsey, Surrey and before he retired we were both work colleagues. Fred was also a member of our retirement group.
We were amazed to learn that Fred was a survivor of the HMS Dasher incident and when we got home I looked it up and found your web site. I am not too sure how many more survivors are around but they must be getting few and far between now.
By all accounts the incident was a cause of great sadness for the rest of Fred's life and he rarely if ever talked about it.
Well done for keeping the Dasher in our memories.
Regards
Jim Robbens
Click on the image for a larger version in a new window
Dear Peter

I spoke to my brother in Australia this morning on the occasion of his 70th birthday. My brother was born in Lamlash Hospital. We then lived on Holy Island where my father was then an Assistant Lightkeeper. I was then a small child but fascinated by all of the naval shipping which then used the base at Lamlash. The boom gate vessel "HMS Imperia" was stationed almost off the inner light station.

Because my mother was still in hospital in Lamlash on 27 March my father was looking after me. He had to do some maintenance in the light room of the tower of the outer light (Pillar Rock) prior to lighting up time and he had me with him. We watched the planes landing on the carrier and the next thing we saw was - reflected in the lens - the smoke and flames on the sea.

Despite being very young I can still remember that awful sight. While the matter was a secret for a long time - and long before there was any publicity - my father always said that it was a fuel explosion on board. Perhaps he knew of this from naval personnel with whom the light keepers were often in contact with.

I have a copy of John Steele's book since first publication.

Kind regards

Hector MacKenzie
(Lord MacKenzie of Culkein)
Charles Augustus George Roberts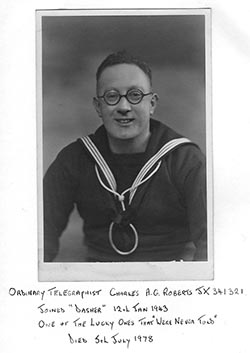 Dear Peter,
I have recently applied for an Arctic Star Medal on behalf of my late father, Charles Augustus George Roberts 1906-1978 and in so doing looked up his service record and realised that next Wednesday is the 70th Anniversary of the Dasher sinking. I was thinking how I could commemorate this date when I discovered your wonderful web site.
My father, then Ord. Tel. Roberts No. JX341321 was one of the lucky ones to survive. Quite a strong swimmer he spent 45 mins in the water before being picked up by, he said Air Sea Rescue, but having read "They Were Never Told" I think it may have been a mine sweeper.
As a 7year old I remember him suddenly appearing in our house and my mother exclaiming "Charlie, what are you doing here"? He was wearing an odd uniform, I think whatever they could find for him. Later he said he joined the Navy to avoid the mud of WW1 trenches and got smothered in oil instead but he never spoke of the horrors of that awful night. I also remember him telling how when he visited our local Pub one of his pals greeted him with "I thought there was a war on, the Navy is always on bloody leave". He said he just walked away, he was that sort of character.
Three months after the sinking he sailed in HMS Walker, an escort destroyer, on the Russian convoys hence his qualification for the Arctic Star. That must have been hard with the sinking so fresh in the mind.
Yours Geoff Roberts [son]
Click on image for a larger version in a new window
Archibald Gray
My grandfather was Archibald Gray one of the casulaties lost at sea aboard HMS Dasher in 1943. He was in the merchant navy and was 34yrs old.
His daughter (my mother) has recently passed away which has prompted me to find out more about my family history.
Archibald had another daughter May also deceased and his wife Isabella passed away when my mother was only 12yrs old so we have only ever known limited information. We know he had a brother and was wondering if you have had any enquirys regarding Archibald.
I would be so happy and grateful to hear if anybody knew him or had any stories or photos.
kind regards
Scott Ancell
Leading Seaman Clifford Thomas Booker Brown
I have been living in Orkney since 1999 & it was only a few years ago that I learnt that my Uncle, whom I knew was "lost at sea" was one of the casualties on HMS Dasher. He was Leading Seaman Clifford Thomas Booker Brown, he was my father's half brother from a previous marriage. That's all I know about him, if any one could enlighten to me to any facts or a photo would be great. I do not even know how old he was.
Our grandmother swore on that night she saw him lieing on his bed & knew he had been killed.
Regards
Jan Owen nee Brown
Tom Neighbour
My grandads brother was on the dasher and lost his life. His name was Tom Neighbour. My mum got married and took the surname Raynham. My grandad has recently passed away and I have been reading a book on the Dasher that we bought him some years ago and to my surprise there was a John Raynham on the boat. This is most likely to be a coincidence but I would really like to follow up on it. If you can pass on any information about John Raynham I would be most grateful.
Yours faithfully
James Raynham
Air Radio Mecahnic James Hodges Kelly
Just in the last year I obtained my Father's war record and HMS Dasher (891 Squadron) was listed in his record up to the day of the tragedy. He survived but I have no details. He had already survived the sinking of HMS Eagle in the Med on Operation Pedestal and went on to serve in the Pacific on HMS Victorious, being onboard, during the Kamikaze attacks, and right up to the end of the war in the pacific. He never spoke to anyone in the family about his wartime experiences.
I think he might have been a bit of a Jonah. When he was onboard a ship they used to shoot an albatross for luck before they sailed!
I was born in 1950 by which time my Father was in the Merchant Navy with BP tankers. He died in 1959, in his sleep, at 40 years old (odd having survived so much during the war). He was mostly at sea during the years I was growing up and I never really got to know him I don't know if there are any survivors who may be able to help but I would be extremely grateful for any information that may be available.
Personally, I joined the Royal Navy in 1967 and served 14 years ending up as a Chief ERA (CMEA(P) in decimal currency, I was in the last entry of ERAs that passed out of HMS Caledonia in Rosyth) all that time without the slightest clue about my Father's war record!
Thanks, in anticipation,
Kindest regards
Ned Kelly
Ned - Royal Naval nickname, proper name William Victor, for centuries, in the Kelly family, there were William Henry's and James Hodges Kellys, back to Nelson's time in the RN, but my Mother broke that tradition, my brother was James Hilary so the initials stayed the same, because they all died at sea, now I live onboard a yacht in Turkey!
Cuthbert B Sweetnam
I am a member of the Lickey Hills Local History Society in NE Worcestershire, and I am researching the men on the local war memorials.
I have some information on all but one of those on a war memorial plaque in Cofton Hackett Church, however I have failed to find anything about a Cuthbert B Sweetman of the Fleet Air Arm listed as a casualty of the Second World War.
A friend of mine suggested that his name may have been spelt wrongly and was in fact Cuthbert B Sweetnam, one of those lost on HMS Dasher. This does seem to be a possibility. But he was born and married in Cardiff which is a distance from Worcestershire and was a leading supply assistant in the RN. This may be a misunderstanding on the part of the engravers.
There may have been an incorrect assumption that, if you were serving on board an aircraft carrying ship, you were part of the Fleet Air Arm. But, if this is our man, I cannot quite understand how he is on our war memorial in Cofton Hackett, Worcestershire.
Any suggestions gratefully received.
Jill Harvey
---
Capt JA Cunningham
Dear Peter,
What an honourable mission you have set yourself upon.
My grandfather, Capt JA Cunningham (also a provost of Ardrossan) was one of the two or three Ardrossan harbour pilots before and during the war years.
I recall my late mother telling me of the dreadful night of the Dasher's accident. She spoke little of it other than to say that her father had been unable to tell the family of the appalling task he and others had undertaken on that night.
I understand that the Ardrossan pilot boat, with my grandfather aboard assisted in search and recovery of the bodies.
My mother would have been only 14 years old at the time and surely wouldn't have been told at the time and JAC died only some 4 years later.
My guess is that JAC would have confided in his wife and that many years later she told my mother. My mother told me of no details, and other than that her father had been out on the pilot boat for about two days in concern with the incident
and that little had been known of the whole event. She told me sometime in the 1990s.
More than that I've never known of the tragedy but often it has entered my mind - like tonight, for some reason, while I was preparing dinner. Impulsively I decided to Google 'HMS Dasher' and first up was your website.
I've ordered your video and shall order the book, hoping to add to my
understanding of that horrendous event.
Kind regards,
Peter Morrison
2 casualties from Cumbria
I have looked at your website regarding HMS Dasher, which I must say is excellent. My particular interest in 'Dasher' is in connection with two of the casualties whom I have come across in connection with a 'Roll of Honour' for the Cleator Moor area of Cumbria.
You are welcome to post the following information about these two crew mates of HMS Dasher to your memorial site if you wish.
Best wishes
J. Ritson

The following two casualties of HMS Dasher came from neighbouring villages in West Cumberland (now Cumbria):

(1) Able Seaman William Barnes, Service No C/JX 238822, of 37 Wyndham Street, Cleator Moor, Cumberland
(son of Robert & Margaret Barnes).
So far as we know his body was not recovered. His name is on the Chatham Memorial.
His brother Private Alexander Barnes, 4th Battalion The Border Regiment, Service No 3598377, also died in WW2
(India, 16.08.1943)
Alexander Barnes was married to Freda Mary Barnes of Frizington, which is a neighbouring village to Cleator Moor. His death came less than 6 months after HMS Dasher went down. Alexander is buried in Madras, Chennai.

(2) Sylvester Woolaghan, of Frizington, Cumberland
The second casualty from West Cumbria who died on HMS Dasher came from the village of Frizington, which is about 3 miles from Cleator Moor. His name was Able Seaman C/JX 212950 Sylvester Woolaghan, aged 23. Sylvester was the son of Sylvester and Catherine Woolaghan. In addition to being remembered on the war memorial of his parish church - St Joseph's R.C. Church, Frizington - Able Seaman Woolaghan is also interred in the churchyard at St Joseph's.
I have posted an article about these two casualties of HMS Dasher on 2WW Blogspot. If anyone wishes to read this:please click on the following link:
http://2ndww.blogspot.com/2009/08/two-casualties-of-hms-dasher.html

If anyone has additional information about these two casualties in particular (or photographs they would like to share for a volunteer 'Roll of Honour project') I would be pleased to hear from them.
'ritsonvaljos'

E-mail address:
ritsonvaljoseph@gmail.com
Dear Peter,
I don't know when you posted your item on this ship and I can't really add much to the story.
My Grandfather John Lainson Field was the O/C during the war of HMS Fortitude ( Ardrossan) Sadly he died when I was just 7 in 1951 and so I never had the chance to talk about things Naval.
I understand he was the Officer in Charge of the Cortege that walked through the streets of the town to the cemetery carrying those bodies that had been recovered.
I believe that initially there were not many recovered from the water at the scene, but over the coming days more floated free from the wreck. My Grandmother who was living in married accommodation at the time also must have been aware of what had happened but even in later years never ever once mentioned a thing about the tragedy.
My Mother (their Daughter) I suspect must also have known about it but likewise she never mentioned a thing .
There must have been many Naval families at the time who could not help but realise something had happened and for those with relatives on board and not knowing, or even being told the facts , it must have been heartbreaking.
With a large explosion and followed by a fire which was witnessed by many from the shore people must have clamoured for news and not got any.
I dont know whether my Grandfather would ever have said anything in later years even if I had found out. I only read about it in the excellent book on the tragedy a few years ago and came across my Grandfather's name.
My Grandfather had been in the Navy since before WW1 and specialised in what at the time were called torpedo boat destroyers. His first Command was HMS Winchester and surprisingly during WW2 when my Father joined the Navy this was the ship he did his seamanship on !!
When my Grandfather retired from the Navy after WW1 he wanted to take up farming and was involved with this when WW2 came along. He knew he was too old for Command on the sea but volunteered and was given the posting of HMS Fortitude in Ardrossan.
The story about one of those bodies being recovered and used for the 'Man who never was' is most compelling. Despite the huge attempt at secrecy over the disaster, I have no doubt the German Intelligence of the time, must have realised that the ship's name never came up again and must have wondered what had happened to her.
The final insult must be when the files were at last released to the public domain and still nobody went public.
best regards
Patrick Walker
E mail received 8/6/09

Able Seaman Harry Harper

Dear Peter, I thought I would pass on this piece of information which I came across a few years ago but only recently went back to investigate. Whilst walking my dogs in the local Greenock cemetery I come across many war graves but one in particular caught my eye; that of Able Seaman Harry Harper, RN C/JX 260671. Having the same surname I was naturally curious but after speaking with my father he could not shed any light on the possibility of Harry being related. Perhaps someone who actually is related may be interested to know of his burial site if not already aware of this information ? According to the inscription Harry was aged 33 yrs when killed on the Dasher. Below this is the following verse

" O for the touch of a vanished hand " God's greatest gift is remembrance

I hope this has some significance for someone.

Regards David George Harper
---
E mail received 9/3/09
Victor Leslie Webb
i have been researching my family tree and found that my grandads brother Victor Leslie Webb born 10/3/1921.served on HMS Dasher and was one of the unfortunate one that along with 100's of others lost his life when the vessel sank.
Victor was one of 5 brothers who were serving in the war at the time.I have enclosed a picture of him along with a cutting from the local paper that my cousin sent to me. My Grandfather was William George Webb the 1st on left of cutting
If you would like to include him along with others on your requests page the family would be honoured to have his name included with the other service personell.

Please feel free to contact me
yours
Julie Heybyrne
Great Niece of Victor Leslie Webb
10/3/1921-23/3/1943
Click on right image for a larger version
---
E mail received 2/2/09
Reginald Dickens
I am an ex RAF Aircrew Office and married to Sue nee Dickens: her father Reginald Dickens was a PO on Dasher when it went down: he survived.
He told us about the opening of the memorial; we offered to take him but he declined.
Over the past many years whenever we ventured to get him to talk about the Dasher he just went quite; and only referred to the actual sinking and his survival.
He died a couple of years ago, and we are now going through what ex RN things has passed to us, hence us sending this message.
Alan Summerside
---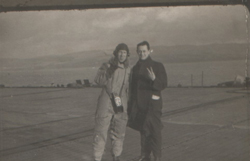 E mail received 2/2/09 (Click on image for a larger version)

Reginald Holden

Please find a photograph I have found of my grandfather, Reginald Holden, aboard HMS Dasher on the 29th Jan 1943. My grandfather is on the right, I don't know who the other chap is.
My granfather used to attend sea trials and worked for the Admiralty but I'm not sure of his exact role.
I hope the picture may be of some interest to you.
Best Regards
Steve Holden
---
George Edward Fox
My uncle, George E Fox, Air Mechanic (first class) was one of the many lost on HMS Dasher. My grandfather went through a lot of heartache, and spent a lot of time trying to find out from the admiralty how his only son died, but was met with a brickwall at each turn. Unfortunately, he passed away before he could find out any information.
Like many others, my mother has wondered for many years what happened to her brother, what caused the ship to sink and why there was so much secrecy. Whilst the books written by John & Noreen Steele have thrown some light on what actually happened, I know that my mother would be delighted to hear from any of the survivors that might have known George. I believe that he would have been about 21 at the time of the sinking.
Regrettably, my mother is now bedridden, and cannot see very well, but any information or stories that anyone might have about George would be most welcome and would bring her great happiness.
I would be very pleased to hear from anyone that might have some information for her, no matter how small.
Elaine Papazoglou
elainepapas@yahoo.co.uk
---
Frederick Arthur Morgan
Frederick Arthur Morgan was my uncle, i never got to meet him as I was born after the war.
We were always told by our father that a plane had crashed onto the deck and caused the explosion, this is what he genuinely believed.
My granny died before i was born, she too never knew the truth. Uncle Fred has one survivng sister living in Hetton -e Hole, Tyne & Wear, now into her 90's.
Thanks for all your efforts, on behalf of the Morgan family.
Robert Morgan
---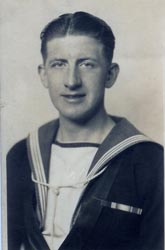 Have just found your site, and I am dumbfounded to find out about a story my dad told me as a little boy is true. His ship was HMS Isle of Sark. The story is sad but I am now a proud son of 70 years who's dad always said sailors don't let sailors down. I have attached a photo of my dad who died in 1987.
all the best
Norman Russell
Click on the image to enlage
---
George Lovegrove
My Grandad was one of the very lucky survivors of HMS Dasher, George Lovegrove. 84yrs old
I am his granddaughter Jenny Davis, Now 29 years old and have two wonderful great grandchildren for George. My Mother and Farther immigrated over to Australia 30 years ago, and i have only seen my Grandad a hand full of times.
I am extreamly privilaged to say that my Grandad recently moved over to Australia after the sad news of my uncle and Grandmother passing. It has been 17 years since we have seen Grandad and i will be forever greatfull after reading your sad emails on all the tragiclly lost lives, that we can get to know and enjoy what time my Grandad has left.
I have only just recently started looking up on what history is available after seeing my Grandads medals and seeing my 10 and 12 year old boys interested in the devistating sinking of the Dasher.
My sons, partner and I go to the Dawn Service every year for our Anzac's and later to the parade through our city centre Perth, Western Australia. In 2008 my children and I can now stand and honnor our Grandad and Great Grandad with our fallen anzac's, and how proud we are to have this oppertunity.
WE LOVE YOU GRANDAD/GREAT, YOU ARE A TRUE HERO, SURVIVOR. HOW PROUD WE ARE TO CARRY THE LAST NAME LOVEGROVE. OXOX
---
E mail received 4/1/08
Stan Lawson
I have just come across your website; my father has been asked to contribute a piece on the Hawker Hunter aircraft for a book, and in introducing him to the author I am describing dad's experiences.
The point is, he began his aviation career by volunteering for the Navy in January 1942 - up to then he had been an ATC cadet, cycling with his brothers to get to Battle of Britain crash sites ASAP for souvenirs ! We still have some...
Dad ( Stan Lawson ) was made a Fleet Air Arm engine fitter on Seafires, first on HMS Unicorn - which he hated due to the snobbishness of the officers - then on two Escort Carriers, Stalker and Khedive - he has particularly fond memories of the latter, and is in contact with one or two ex-crew mates including a pilot.
He was on Unicorn for the Salerno landings, when even that medium sized carrier proved useless for the Seafire, which required a good headwind to keep landing speed, and had a fragile undercarriage.
My point is though, an experience he had on 'Unicorn' - he and his chums found themselves struggling to fit an external 'slipper' fuel tank to a Seafire, in the hangar. The floor of the hangar was vee-shaped, with a central trough - with all the high octane fuel spilt during the process, they found themselves ankle-deep in it sloshing from side to side as the ship rolled ! This I am sure is the answer to the demise of 'Dasher'.
I asked dad if anyone smoked, even sneakily, in the hangars but he reckons not - also during this particular episode the tannoy was blaring ' no smoking in the hangars' repeatedly. On 'Unicorn' there was already a practice of filling the aviation fuel tanks with seawater as they were expended - but it would only take a few minutes delay for explosive fumes to build up...
Dad also reckons he was at HMS Daedalus - Lee On Solent - when survivors from ' an escort carrier which had blown up in the Clyde ' were brought in. The story, probably genuinely believed, was the ship was thought to have been torpedoed.
Dad went on to spend the vast majority of his career -over 37 years - with Hawker Siddeley, later British Aerospace - he ended up as crew-chief on the development Sea Harriers of the Falklands, and the Harrier 2 GR5 development fleet ( he refused promotion beyond what he knew he was good at, and a lot of Test Pilots were very grateful ! ) - not bad for someone who started on Seafires & Hellcats...
Anyway I hope that is of some interest, please do not hesitate to contact me if we can be of any help.
Regards,

Andrew Lawson
---
E mail received 4/1/08
Lionel Godfrey
My name is Alan Bull from geelong victoria Aussie
today I am going to a funeral of a great fella who saw the explosion of the DASHER from his plane as he was waiting for her to come into the wind to land on her, we had long talks about the ship and what happened. Because he knew of the tragedy, he was sent to a remote area so he could not repeat anything of what he saw. His name is Lionel Godfrey.
We both had something in common, as I served on HMAS VENGEANCE an aircraft carrier here in Aussie. He reckoned stokers were the salt of the earth and it was fair dinkum too, I was one of them.
Best wishes
Alan Bull
---
E mail received 27/9/07
Lt. Cmdr William Lothain Allan
I was interested to read the article on the Dasher in the Scotsman during June. I havent any direct information to contribute, but the incident left a lasting impression on me due to the fact that the Wife of Lt. Cmdr William Lothain Allan (known as Lothian) was my Mother's best friend when they lived near Glasgow.
I was Four and a Half at the time and the understandably shocked look on Mrs Allan's face as she broke the news to Mother has left a lasting impression on me. Shortly after the war I accompanied Mother and Mrs. Allan on the Boat from Ardrossan to Arran, I assume to allow her time for reflection near the site of the sinking.
I have very vague memories of him as a bright and cheerful individual who visited our house and would join in the parties held when my Aunt and Uncle's leaves coincided with his own.
As I said my memories are not directly connected but may add a little background information to the Saga
J. Ireland
iregapland@aol.com
---
E mail received 14th Sept 2007
Last communication
I've been heavily looking into my ancestry, tracing branches of my tree back to the 1500s. I've recently been told a family story by my mother, and on looking into it, have found your email address. Here is the story as she told it to me, about her sister, my aunt.
Jean was a wireless telegraphist in the Wrens and was stationed in Largs in the 1940's. They were in close contact with the ships in the Clyde, and Lord Louis Mountbatten's HQ were also in Largs. When their opposite numbers in the Royal Navy came on shore they were able to meet up with them and all became friendly, and ship-to-shore they were able to add their own little signatures when signing on and off duty.
On the night in question Jean knew whom she was in contact with on The Dasher when all of a sudden a message came over from him in plain text Morse, not in code, to say 'we've been hit'. She was so shocked that she replied 'say again' but that was the last she heard.
Best wishes
Lorna Evans
lorna1965@hotmail.com
---
E mail received 11th Sept 2007
Dennis Ingram
I am looking for any information relating to Dennis Ingram, one of the crew who went down on HMS Dasher. I believe my father-in-law may have been related to him.
I would like any information relating to Dennis if anyone has anything.
Megan Peterson
peterson.family@inspire.net.nz
---
E mail received 2nd May 2007
K. H. Flower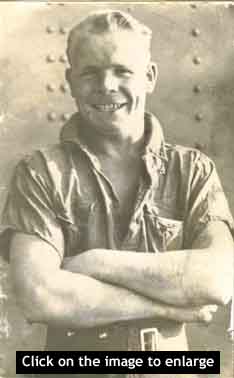 I have just watched your video on HMS Dasher and felt I had to write to you.
My father, Kenneth Henry Flower, Acting Petty Officer, Air Mechanic , photograph attached, was just one of the many who perished.
I am now 64 years of age and have only over the last 10/12 years been finding out about the Dasher. As a child growing up all I was ever told was "your father died during the war - he went down with his ship" Nobody ever talked about what happened about the war years or what happened to my father's ship. I must have been about 8 or 9 years old when I was shown a newspaper, The Scottish Daily Express dated 19th May 1945 which first reported the loss of the Dasher. I still have this newspaper,together with the telegrams " missing on war service" "presumed dead" and a letter from Comodore E Thornton stating "it has become necessary to presume your husband's death to have occured on 27th March 1943". That letter was dated 23rd April 1943.
That day I lost not only my father but my mother. She couldn't cope with the loss of her husband , widowed at such a young age and being left with a 5 month old baby. She eventually abandoned me with my maternal grandparents who brought me up in Orkney. Although I always knew that they were my grandparents because they brought me up from infancy I always called them Mum and Dad and still refer to my maternal grandmother today as "my mum". I only referred to my mother by her name Minnie.
I never really got over the sense of being "abandoned" but began to understand how and why it happened after discovering a little of the story of the Dasher albeit that by that time I was in my 50's and my mother "Minnie" had been dead for many years, "accidental death" - overdose of sleeping pills! So I never got to tell her that I understood why it was that she abandoned me and that I "forgave" her.
There must be many other 60 something year olds who have similar stories to mine. I think we deserve to know the whole true story of what really happened. My mother died early in life never knowing the truth, probably feeling guilty about abandoning me so I think that the Admiralty/Government should come clean and tell those few of us left who have been affected all our lives by this tragedy what really happened. In my heart I know that they never will.
Maybe in my daughters' life time or maybe even in my grandsons' life time they will but it will be far to late to mean anything to anyone and that is exactly what they are banking on. Who knows one of my grandchildren or maybe someone elses grandchild or even great grandchild will take them to task one day.
Thank you for making your film and keeping the memory of HMS Dasher and all those who perished alive.
Valerie MacDougall (Mrs)
born Valerie Flower 5th October 1942
---
Flightdeck pieces
I found pieces of the mahogany flightdeck of HMS Dasher in 1999 - they had been washed up on Ardrossan South Beach. They had large bolt holes and were eaten through by Teredo Worms. A piece was sent by me to the Millennium Dome exhibition of flotsam and jetsom following a contact by the organisers - we had a digital photo of the specimen on our website.
I had an Uncle Dasher in the navy and it turned out that his side of the family had been in the navy since the time of Humphrey Gilbert, the half-brother of Sir Walter Raleigh. The Dasher had been named after one of Uncle Dasher's Admiral Dasher ancestors.
The family are from Compton Castle in Devon. I am also from Devon - quite a coincidence finding a bit of the ship connected with my family!
My wife's Uncle Hugh remembers working at Troon Shipyard and hearing the explosion of the Dasher.
I hope that this is of some interest,

Regards,
Roger Griffith
RGRIFFITHK@aol.com
---